How to Buy a Florida Short Sale
Posted by Jason Painter on Thursday, January 25, 2018 at 2:02 PM
By Jason Painter / January 25, 2018
Comment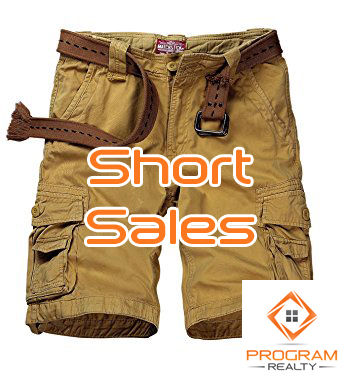 Although not as common as a few years ago, I still get asked from time to time to explain what a short sale is. I decided to just write a blog post about it on my website so everyone can know the truth about short sales and if they should pursue them.
No its not a sale on shorts like my comedic picture to the right depicts, short sales are actually new to many people and are a result of a sharply recessed housing market. Because the market has now recovered, short sales are far and few between. A short sale is basically when a seller attempts to sell their property at a price that is insufficient to cover their mortgage and related selling expenses. The idea is that a seller might avoid foreclosure by finding a willing and able buyer for the bank. The bank may decide that rather than foreclosing on a client they may just grant a short sale. You might wonder why a bank would do this?
The bank's position
The bank realizes that the homeowner is in trouble and is not going to be able to continue making payments. Maybe the seller has already stopped making payments. The bank can choose to foreclose on the seller for nonpayment. In order to foreclose, costly legal proceedings and time must be accounted for. It is estimated that an average foreclosure in Florida costs a bank from 40-50k dollars. The bank may decide that allowing a short sale is the lesser of two evils; a way for the bank to cut its losses and move on. The problem is that banks are large entities and getting them to do anything fast is hard to do. Asking them to take a large loss on a property is not usually well received.

The seller's position
Short sales are really a no brain-er for the informed seller having financial difficulties. The main reason a seller will want to perform a short sale is to hopefully keep their credit from being hurt by the hit of a foreclosure. Foreclosures tend to stay on a credit report much longer and carry a bigger "hit" than a settled debt from a short sale. Short sales are generally forgiven and the client does not have to pay the shortage back in many instances. If a seller decides to just let the bank foreclose on them, the foreclosure banks may pursue the homeowner for the deficiency for many years.
When short sales first started to become all the rage a couple of years ago, the IRS was treating the forgiven debt as income for the sellers. Recent tax rules signed into law stipulate that the perceived "profit" from the short sale not be taxed. The tax break is for primary residences only.
Most of all the work and negotiation of a short sale is done by the listing Realtor. In most cases the fees paid to the Realtors come from the bank holding the mortgage at the time of closing. Short sales cost the seller absolutely nothing, so again, it's easy to see why a seller in trouble would try to short sale their home.
Should I look at short sales?
Think very carefully before embarking on a short sale hunt. Be very aware that these types of transactions are neither fast nor easy. Instead of being called short sales, many of our clients say they should be renamed "long sales" because of the time periods involved. Many times banks will stall for months before countering an offer on a short sale. Frequently a short sale may be listed for sale and the bank may not have been made aware of it, and definitely not approved it. In the Southwest Florida area short sales generally take at least 90 days to close, sometimes much longer. There have been cases where the short sale contracts have taken over one year for approval...or rejection.
Many times a short sale will be rejected by the bank and the home will just go into foreclosure. If you have an offer in on a home and that offer gets rejected, all that time waiting will have been wasted.
Keep in mind that when you see a short sale on the market it will normally have a very attractive price. Short sales are priced low for a reason. People know the hassles of short sales and generally want to stay away from them. Knowing this, the listing agent and seller price the home at a sometimes unbelievable low price. This low price has not been approved by the bank, and instead usually a "teaser price" in order to garner offers, sometimes multiple offers even. The bank will wait a period of time and will usually start countering the offers at market prices. Keep in mind that the banks are fully aware of market price and are not in the habit of giving properties away. Even if you offer the full asking price, or even above it, there is no guarantee that the bank will accept the offer. All short sale offers are subject to 3rd party approval, i.e. the bank holding the mortgage.
Some short sales are better than others
In my experience there are several signs that may predict whether a short sale is going to work or if it will not.
1. Is the seller qualified to perform a short sale? Only a person facing some type of financial pressure is allowed to pursue a short sale. Usually a loss of work, sickness or some other issue is warranted. Banks will not allow you to short sale just because you invested in a property that lost value and now you want out. They look for genuine hardship to consider working with the seller at all.
2. Has the listing agent contacted the bank and obtained a short sale package? The bank will let it be known quite early if they are willing to at least consider a short sale. Ask to see proof that the bank is willing to facilitate such a sale before entering into a purchasing agreement.
3. How much money is owed against the property? If a property has a serious delinquency between selling price and the priced owed, the bank may choose to foreclose. They may feel they will have better luck selling the home as a REO or real estate owned property.
4. How many mortgages are on the property? Find out if there is just one or multiple mortgages. A property with one mortgage will generally have a much better chance at closing than multiple mortgages. The second mortgages are generally home equity lines of credit.
5. If there are two mortgages, are they from the same bank? In our experience, if there is a first and second mortgage on a property and they are both from the same company you will have a better chance of closing the short sale. If there is a primary mortgage by bank "A" and a secondary mortgage by bank "B", bank "B" will be hard to convince that a short sale is beneficial to them. The second mortgage always gets paid last, and many times that means they may get nothing at all. Sometimes the bank in 1st position will offer a token amount of money to the 2nd mortgage to release the lien on the home.
5. How good is the listing Realtor at closing short sales? This is absolutely the most important factor on whether a property will go as a short sale or fall into foreclosure. A highly skilled real estate agent will use their expertise, experience and persistence to negotiate with the bank and get the deal done.
So what should I do?
With all the caveats of short sales, there seem to be some people that are more suited as buyers of them than others. If you have plenty of patience and no timeline on purchasing a home, short sales may be an avenue for you. Keep in mind that after the wait you may end up with a simple "no." Or possibly you may end up with a counter offer that is much higher than what the home was listed for sale at in the first place.
The bright side of a short sale is that generally they sell for a very good price. Normally this price is right in line with foreclosed properties, but without the hassle of multiple offers that bank owned foreclosures sometimes generate. The homes are sold as-is just like bank owned foreclosures so don't ever expect any repairs to be done. If you need a home within the next few months and like to know exactly what is going on with your offer at all times, you may want to look elsewhere. If you are a free spirit and can go with the flow, give short sales a try!
Program Realty is hands down one of the best real estate brokers to choose in the Englewood, Venice, North Port, Punta Gorda and Port Charlotte markets if you are thinking of selling your home via short sale, or purchasing a short sale home. We have a proven track record of getting short sales closed, especially if we are the listing agents. If we are on the buying side of the transaction, we can give guidance as to which short sales that we believe can realistically close and we can actually offer outside help to the listing agent with negotiation strategies. Either way, if you are thinking of working a short sale make sure you have the short sale experts at Program Realty on your side. Just contact us below to get started.
Thanks for reading! - Jason Painter, Broker/Owner/Realtor for PROGRAM Realty, LLC.
You can always reach us at 941-999-9900. Or contact us by email here: Contact Us
You can find current short sale listings by clicking this link: Southwest Florida Short Sales
If you would like for us to email you all relevant, up to date short sale listings, just fill out this form below. Through our cutting edge computer system, we will continuously update you on the very latest short sale properties within seconds of them being listed in the MLS system...you will be among the very first people to see the listing for sale.
Continuously Updated Southwest Florida Short Sale List Sign-up